Print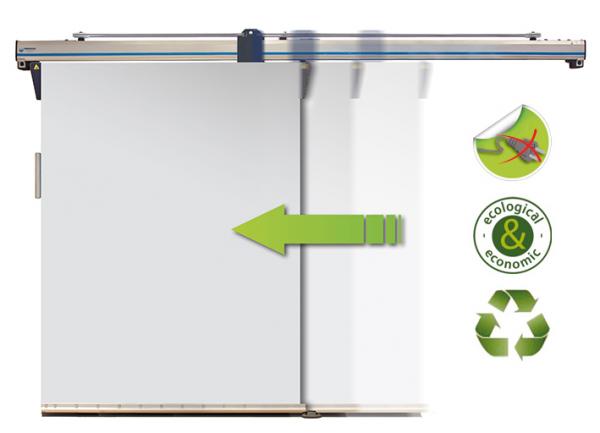 Click to enlarge image
<< Return
Sliding door self closure
Ecological and economic self-closing system for pedestrian sliding doors - Patented System
Reference : Sliding door self closure


Downloads

This device on either positive or negative cold room can achieve an average saving of

1800 €/year

.
Can be repaid within a period of

3 to 9 months maximum

(*).

Door self closure uses an elastic cable to enable automatic closing of the doors for single or double leaves manual systems.
Product created in eco friendly design.

Mechanical system without electrical connection:
- Energy free,
- Wiring free, ...

After opening, the door closes automatically:
• Energy saving and extending life of refrigeration equipment
• Minimizes door opening time
• Minimizes temperature changes
• Minimizes the operation of the refrigerating set
• Reduces ice formations in negative temperature
• Easier operation for users

Features and advantages:
- Very quick return on investments (ask for details)
- Easy mounting and adjustment
- Specialy adapted for pedestrian doors with frequent use
- Compact
- Excellent protection against corrosion
- Door stay to keep the door open (optional)
- Cover (optional)

For manual systems:
- Manual Fermatic system 2120
- Manual Fermatic system 2130
- Manual Fermatic system 2150
- Manual Fermatic system 2130DV
- Manual Fermatic system 2320
- Manual Fermatic system 2420

(*) Characteristics and diagrams presented on this documentation are not of any legal value.




Sales literature
Description sliding door self closure (Word version)
Description sliding door self closure (PDF version)
Study of possible energy saving Fermod sliding door self closure device (PDF)