Print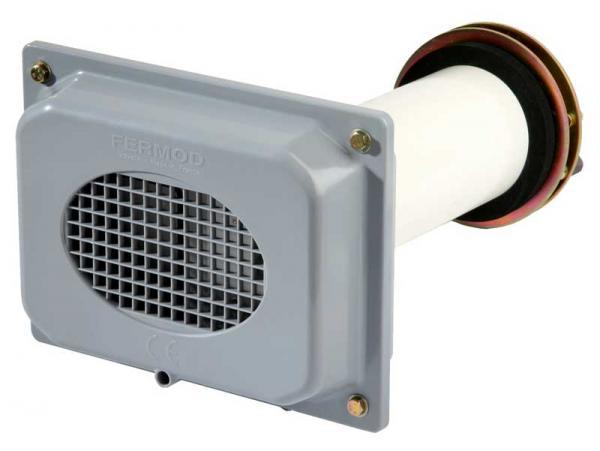 Click to enlarge image
<< Return
VALVE 2230
Patented
Reference : 2230


Please click here to download the video

The walls of a cold room are constantly subjected to strains caused by pressure variations, either from inside or from outside.
The valves FERMOD patented, make it possible to balance internal and external pressures, through venting.



DESCRIPTION OF THE VALVE:


It is a heating, mechanically operated valve, with two airtight mobile flaps, one for admission the other for exhaust.
It is adjusted to operate over a given pressure of about 10 mm water column. It consists in two elements:



A - THE MECHANICAL ELEMENT

outside the room.
It is composed of:
- 1 main case made of reinforced composite,
- 1 cover made of composite,
- 1 anodized dural plate with gasket,
- 2 mobile flaps consisting in plates with an EPDM diaphragm placed to ensure tightness,
- Ref 2230 Wall mounting: 3 stainless steel springs hold each of the two flaps in closed position,
- Ref 2231 Ceiling mounting: 6 stainless steel springs hold the flap in a closed position,
- 1 composite tube with gasket goes through wall and is attached to the case by a tight fixture.



B - THE HEATING ELEMENT

fixed inside the tube with a tightening band.
IT PREVENTS FROSTING and consists in:
- 1 heating element NF, IP55, 40 watt/220 V for valves 2230, 25 watt/220 V for valves 2231 for ceiling mounting, 220 V supply with earth connection,
- 1 thermal contact will control the heating element temperature.

REFERENCES:


N° 2230

with heating element and control contact for safe functioning, for negative temperature cold room down to -30°C.


N° 2231

Like 2230 but for ceiling mounting.


N° 2250

without heating element.


N° 2251

Like 2250 but for ceiling mounting.

For other using temperature, please contact us.




Valves range Documentation (PDF version)